Gold has got to be one of the most valuable things in the world today. Some might think that people can only think of keeping gold jewellery safe.
However, there are also some who actually have real gold bars with them. If you want to know how you can keep both your bars and jewellery safe, then just keep on reading.
Keeping Gold
Many people are buying gold stocks nowadays. They can all be owned both electronically or by paper. Then again, more and more people are also becoming interested in buying real gold. These precious metals are of course very difficult to keep since you need a safe place inside your home to keep them.

A lot of wealthy people tend to have their own built-in vault. But building one can cost you a lot of money and a lot of gold. For those who are still starting, here are some tips for you.

Make Sure It's Legal And Insured
The very first thing you must consider is the fact that your ownership must be legal. You must first set up a Precious Metal IRA. this is based on the reason that, you cannot simply buy one and keep it without insuring and legalising it. You must register each and every piece you own so that it can be under control for tracking and taxing purposes.
However, if you choose to have a non-IRA at home, then it may not be insured. There are companies that offer them but most of them have limits.
Learn About Storage Space
You might think that burying your gold in your backyard is actually the best way to keep it. This is known to be one of the oldest ways to do it, but this does not mean that it is secure. There are known to be two main gold storage types.
The first one is known as commingled, which is the kind of storage whereby your gold is stored with other people's golds. The second one is known as allocated storage. This is when it will be under your name and each item will be recorded.
Jewellery
Keeping gold jewellery is of course way easier than keeping real gold bars and such. However, a lot of people still do not have the slightest clue on how to store them properly.

The most important thing you must consider is the type of jewellery you have. According to experts, storing them by type will ensure their longevity. Pearls must not be stored along with diamonds. Gold, sterling silver, and platinum must also have their own respective storage conditions. Being able to preserve your jewellery properly will help you keep them in good condition.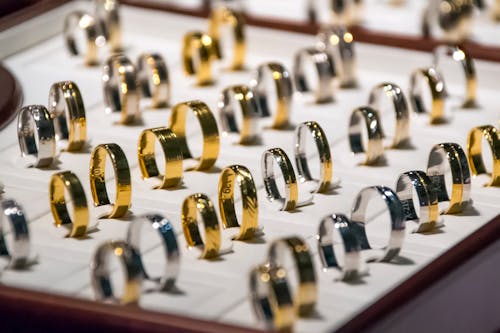 Make Sure They Are Properly Cleaned
It is also very important that you have them cleaned properly. Some people tend to keep them without cleaning them. Keep in mind that moisture and body fluids like sweat may have a lot of great effects on your necklaces and earrings.
Other chemicals that can be found in makeup and perfume may also have a bad effect on them. Take good care of them and they will last for a long time.