When it comes to the famous vintage engagement rings, the royals totally rules the game. The British Royal Family, in particular, has an iconic list of couples who managed to make the world keep an eye on their engagement.

Queen Elizabeth II
The current queen of England is known to be the longest living monarch of today. She and her husband, Prince Philip has been married for over 70 years. Prince Philip gave her a three-carat diamond ring. He knew he had to find a suitable ring that would be fit for a queen, so he sought, his mother, Princess Alice of Battenberg's, help. She then gave him a tiara as a wedding gift, which is originally owned by the last members of the Russian royal family, the Romanovs.

Prince Philip proposed to the queen in 1947. The ring has a big diamond in the middle with some more stones revolving it. He actually designed this ring himself after taking some stones from his mother's tiara.
Lady Diana/Kate Middleton
Almost everyone knows who the late Princess Diana is, which is why her ring became legendary. Prince Charles proposed with a 12-carat oval ring that has blue sapphires and solitaire diamonds surrounding it. The said engagement ring is made from 18k white gold. It turns out that the ring was chosen by the late princess herself. This is because Prince Charles actually presented a couple of rings to her. It sparked controversy since the ring was criticized and was believed to be a ring fit for a commoner.

Years after her untimely death, her eldest son Prince William, who is second inline of the throne, proposed to his long-time girlfriend Kate Middleton. Prince William himself revealed that he wanted his mother to be with them for their wedding, which is why he chose her ring. It was also revealed that Prince Harry originally asked for the ring when their dad made them choose heirlooms. When Prince William decided to marry Kate, he let his older brother have the ring. Prince Harry believed that the ring suits Kate the most because he thinks fondly of her as an older sister.

Prince William proposed in 2011 and this sapphire blue ring became the most famous style of engagement ring all over the world. The ring was also said to be a little too big for the now Duchess Kate, so it was resized for her.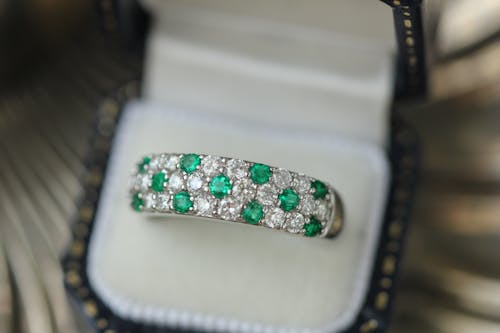 Wallis Simpson
From a heart-warming fairytale engagement story to a more controversial one. During the 1930s, a love between a divorced American socialite and a king is considered as a taboo. Edward VII, who was the King of Wales at that time, gave Wallis Simpson an emerald ring made by the French jewelry house, Cartier.
He proposed to her in 1936 and the ring has an engraved message that said: "We are ours now". The king was abdicated from the throne just so he could marry Simpson. This led to his brother becoming the king. His brother, King George VI, was actually the father of Queen Elizabeth II. These are just some of the most famous vintage engagement rings from the royal family.