There is now a lot of glitzy and modern type of rings available in the market today. They come in different designs, but there are still people who prefer to stick to antique.
Rings do come in antique designs but they are not exactly from decades ago. This is why a lot of people are curious as to what exactly are the characteristics of antique rings. If you want to know more about them, then just keep reading.

Getting Rings Appraised
If you inherited a ring that looks like it is older than you, then you can always get it appraised. Only qualified jewelers and gemologists can identify the ring's age. This is why most people who are into antique rings only purchase from a reputable antique jewelry store. These jewelry are often marked. There are some online stores that claim to sell authentic antique rings, but most of them are reproductions. This is why it is best to know all of the characteristics of an antique ring. Avoid being fooled by reproductions that are sold for unreasonable prices.
Motif And Style
One of the most common characteristics of antiques is their motif and style. They most likely have bold patterns and symbols that are based on their era. Some of them have cultural and historical events that symbolize it. For instance, if it is from the Victorian era, then it will most likely have dark-colored stones in it like garnet and onyx.

The cut of the gems also varies. One of the oldest cuts of gems is known to be a table cut, which is square with a large flat top. If it is a rose cut, it will be round with a flat bottom and it is known to be from the 1500s. However, this cut was also famous in the 1800s. Step cuts on gems were used from the late 1800s up till now. Some of the most common cut during the 1900s are the old mine cut, which is a rounded square shape, and the old European cut, which is a round faceted shape.
Metal Use
You might want to look into the metal as well. If silver has been used to set diamonds, it is most likely from the 1700s. During the Elizabethan era, gold was extremely popular. Gems of different colors were used other jewels aside from rings, such as crowns and necklaces.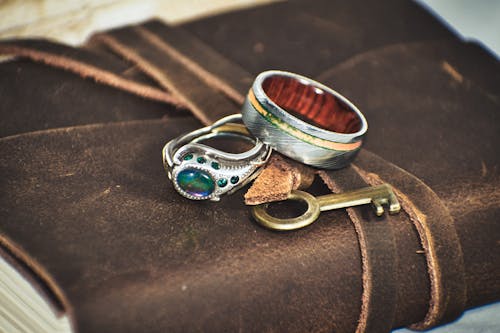 Famous Gemstones
It is also easy to identify an antique ring based on its gemstones. For instance, during the reign of Queen Victoria, every gem that was colored blue such as sapphire and turquoise were very popular. It was not until the late 1900s when the use of colorless gems like diamonds became extremely famous.

In fact, it is the most common gem that is currently being sold today. Especially when it comes to engagement and wedding rings. Although gems of color are still in, they are not as famous as the colorless ones. Antique rings usually come in gold and colored gems.